Stupid, Slaves, Addicts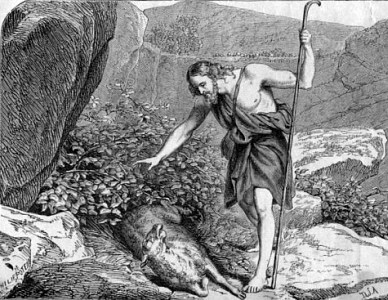 On Good Shepherd Sunday we pray "that the humble flock may reach where the brave Shepherd has gone before."
Apparently sheep are the only animals that do not go feral. The implication might be then, that we humans, for all our "wild wanderings," can never be considered beyond redemption. Hold that thought.
Sheep seem fairly unintelligent and anxious, and so if we are honest with ourselves, identity and rapport with the image seems reasonable. At our best we can be thoughtful and calm. But stupidity, fear and fragility are like first or at least second cousins.
There is another dimension of the Good Shepherd Parable that is worth our attention:
I tell you most solemnly, I am the gate of the sheepfold (John 10).
Jesus is not just "shepherd." He is also the "gate." The imagery is important.
A gate permits entry and exit.
Entry is to the sheepfold, where we find rest and comfort. Exit is to the world of action and work, where wisdom and bravery are required.
And yet, Christians – AKA "other Christs" – are often considered as stupid, slaves and addicts.
Three figures in the 19th Century peddled this ideology. Their musings persist, especially in places of higher education.
Karl Marx (1818-1883) claimed that religion is the "opium of the people." If you want to avoid addiction, avoid God.
Friedrich Nietzsche (1844-1900) claimed that if you want to be daring in life than throw away faith and rely on reason alone.
Sigmund Freud (1856-1939) claimed that Christian morality is slavery. Get rid of the Ten Commandments and Beatitudes and you'll be free.
But, Jesus is the gate. We pass through him into the fullness of life.
He is our intelligent, good, balanced and brave shepherd who is both our "means" and "end" to eternal, resurrected life.
With him there is no need to feel or think you are stupid, a slave or addicted.
Amen.