'The race is run, the work is done': Fr Neville Drinkwater farewelled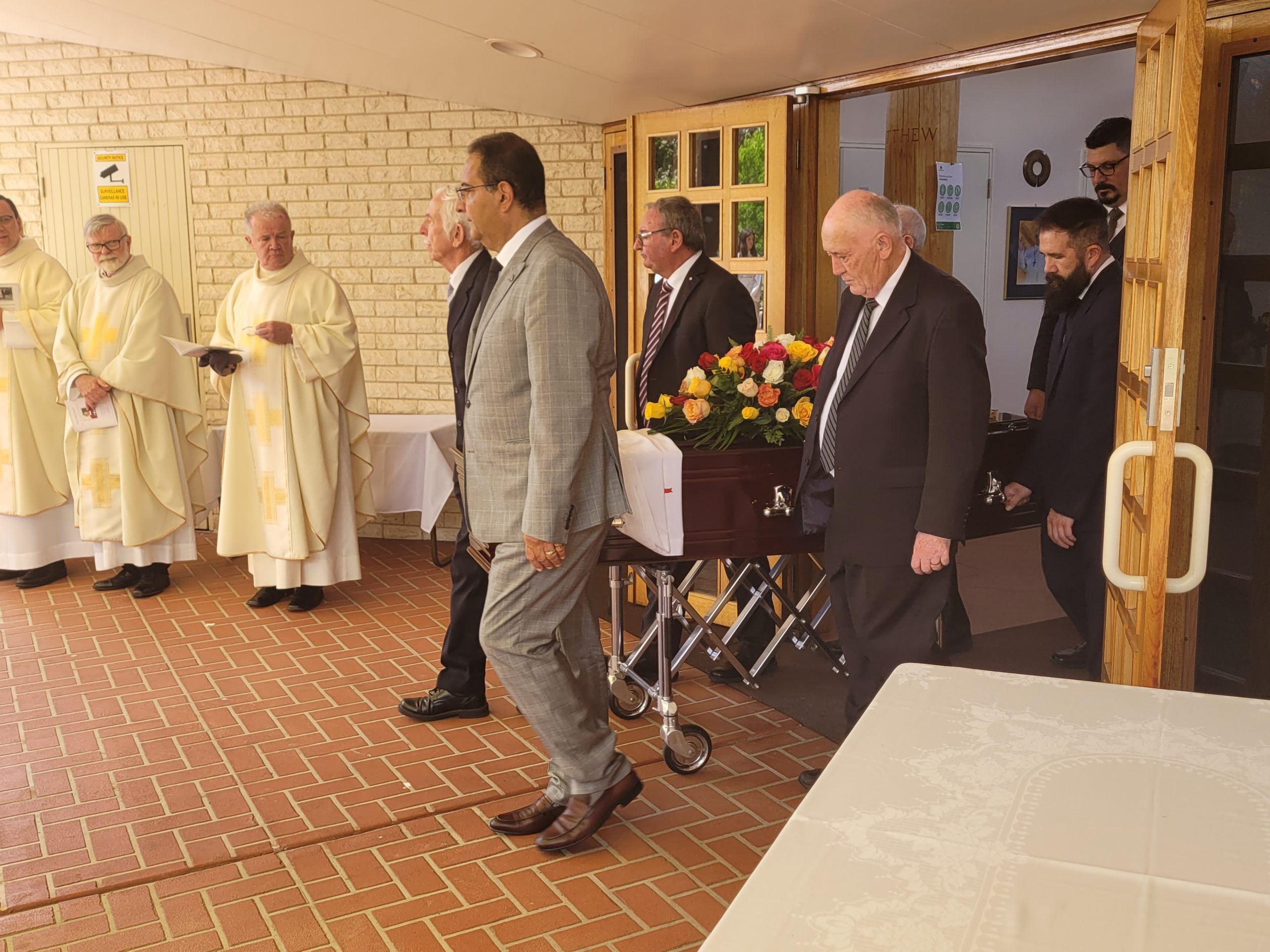 The pews were packed to overflowing at St Thomas Aquinas parish in Charnwood for the Requiem Mass of Fr Neville Drinkwater OAM.
The parish's former priest died at the Calvary Haydon Village on 29 January, aged 98.
A Requiem Mass for the repose of his soul was celebrated at the church he is best remembered for founding and ministering to for over 40 years.
Fr Drinkwater served at Charnwood from 1974 to his retirement in May 2019.
He received the Order of Australia in 2016 for his services to the Catholic Church.
Vicar General Fr Richard Thompson was the chief celebrant for the Mass, concelebrated by many of Fr Drinkwater's brother priests and clergy.
Fr Thompson represented Archbishop Prowse, who could not participate due to an overseas commitment.
In a message read to the congregation, the Archbishop praised Fr Drinkwater as an "outstanding priest" who mentored many.
He specifically referred to Fr Alexander Osborne, who Fr Neville had nurtured from a local altar boy to his ordination as an archdiocesan parish priest.
The Archbishop also paid tribute to Sr Colleen Howe for her care of Fr Drinkwater over his latter years.
Parish priest Fr Tom Thornton, the successor at the Charnwood parish, said during his homily that Fr Neville had never wanted a eulogy. But "you…the parish and the school are his eulogy".
"You are the ones that walked with him, built with him and prayed with him. You are the reason for him ministering as long as he did."
Parishioner Peter Osborne told the Catholic Voice, "Fr Neville was a wonderful man…We came to this parish from the UK and he was the one that welcomed us. Just a fantastic guy."
Rosslyn Pollard was the organist at the parish for 13 years and described her former parish priest as a "wonderful leader of our parish over all the years."
"He baptised my children and buried my husband. I have very fond memories of him and we miss him terribly."
"He made the sermons very relatable with an interesting sense of humour, quite wry, quite blunt," said Laura, another parishioner.
Former acolyte Joshua Osborne-Goldsbrough lauded Fr Drinkwater for the welcome he provided to him to the parish. "It was an honour to serve alongside him on the altar," he said.
Fr Thornton highlighted his predecessor's love of the children at the parish school and related how they would return in later years to enquire of Fr Drinkwater's whereabouts and wellbeing.
Today's students from St Thomas Aquinas Primary School reciprocated this affection by lining the streets as his hearse departed for the Rite of Committal at Canberra's Woden Cemetery.
"The race is run, the work is done; the reward of the Lord awaits," said Fr Tom as he concluded his homily.