Vinnies' launches NSW Flood Appeal and calls for donations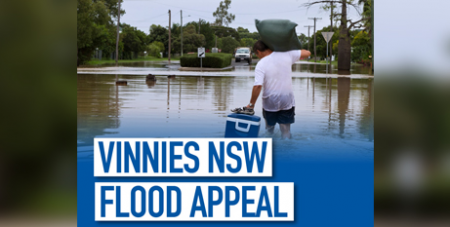 St Vincent de Paul Society NSW has this morning launched a flood appeal to help those affected by the heavy rains and flooding across the state and is asking Australians to give generously.
"People have already lost their homes and further evacuations are expected before this weather event passes.
"Vinnies has been helping Australians in crisis for nearly 140 years, and to supply evacuees with food, clothing, household goods, and longer term recovery, we need your help.
"If you are able, please donate to the Vinnies NSW Flood Appeal.
"All donations will go towards assisting people and communities directly impacted by the floods," St Vincent de Paul Society NSW CEO, Jack de Groot, said.
The Mid-North Coast has been hard hit by the floods. Many people and businesses have been significantly impacted.
Large number of evacuations are happening, and many have lost property as well as large numbers of stock.
"Vinnies has a network of members living in these communities across the state who are ready to provide people with practical assistance and emotional support," Regional President of the Manning, Deacon Vince Ryan, said.
"Vinnies needs your help to provide everyday necessities to people who've been displaced by the floods."
Donations can be made by calling 13 18 12, at www.vinnies.org.au/NSWFloodAppeal or at any Vinnies Shop.