Wine and Wisdom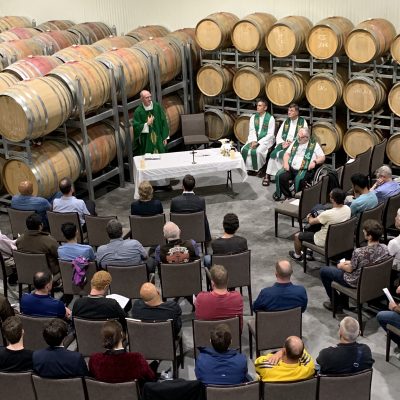 Over 60 men from around the archdiocese gathered at Clonakilla Winery on Tuesday night for the annual Wine and Wisdom event hosted by the Disciples of Jesus Community.
Fr. David Callaghan MGL was the main celebrant for a joy-filled mass among the barrels. The evocative setting gave the opening hymn 'New Wine' by Hillsong's Brooke Ligertwood extra poignancy!
Fr Dave preached on the tender love of the Father for his sons: In a world where the voices within and without are constantly telling men, "You're not good enough", the voice of the Father comes from heaven to say "You are my beloved Son".
After mass the tables were set, the wine was poured and pizza started to flow from the mobile pizza ovens under the direction of Murrumbateman pizza master Perry Healey.
Laughter, exaggeration and general nonsense were the flavour of the mealtime conversations, but the tone turned to a more reflective mood to finish the evening with an enthusiastic exhortation from winery host and Disciples of Jesus Community leader Tim Kirk on the line from St. Paul, taken from the day's first reading, 'The Spirit comes to help us in our weakness'.
To balance the ledger, Disciples of Jesus will be hosting a women's' night at the MGL Sisters house in Kambah on Wednesday, November 13. Bring a sweet or savoury treat to share!
Register at http://bit.ly/TwilightGardenParty
---
(If you would like to be informed about future mens' or womens' events hosted by the Disciples of Jesus Community, send a note to dojcanberra@gmail.com to be added to the contact list.)