Farewell for great patriarch John Cusack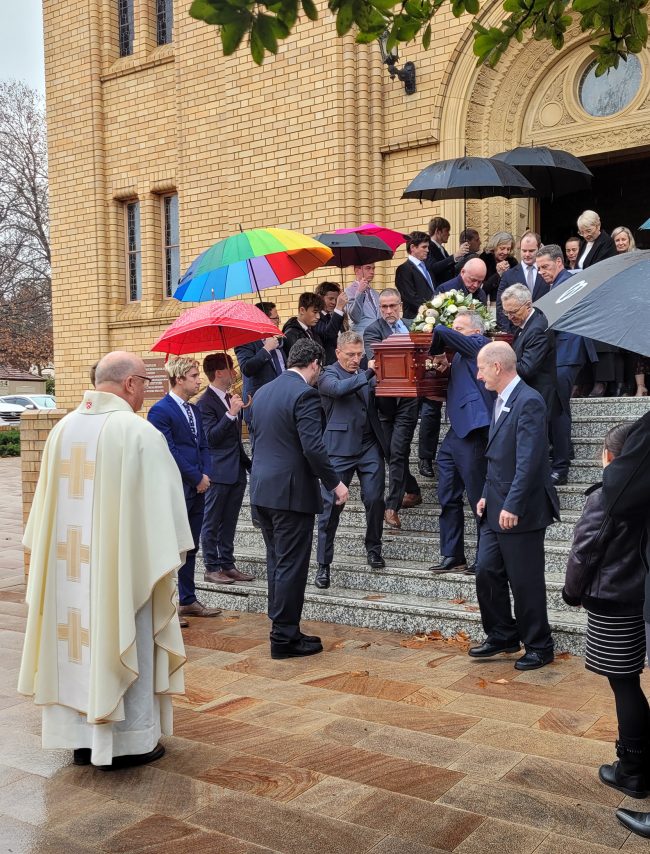 It was cold and wet, but nothing could take away the depth of the warmth and affection expressed for the late John Cusack who was farewelled at a requiem mass in Canberra today.
Humble, faithful, loyal, courageous, a man of deep faith and a husband, father, grandfather and great grandfather who loved with "without measure" … these were among the epithets used to describe the patriarch of the landmark Canberra furniture business that bears the family's name.
Fr Frank Jones was chief celebrant of the mass at St Christopher's Cathedral that was concelebrated by eight other clergy and attended by a large congregation of Mr Cusack's family and friends and other mourners.
The eulogy was delivered jointly on the family's behalf by John's sons, Stephen and Robert. They said that the farewell for their father was a true cause for celebration for someone who had given far more than death could take away – a life of "love and fulfilment".
They also spoke of the many sufferings experienced by John, including the loss of a leg from a railway incident when he was six and the tragic death of his daughter, Mary. The latter was a life-long pain that "broke his heart."
People often pondered the secret to his strength but the answer lay in his deep faith, they said. That faith, along with the power of prayer, was to him as "spinach was to Popeye".
During his homily, Fr Jones said John was a "man graced by God and a man strong and brave". He recalled the entrepreneur's great faith, especially his devotion to the Virgin Mary that he had witnessed on pilgrimage with John.
Fr Jones also honoured Marie, John's wife of 64 years, for the wonderful joy she brought to her husband and the deep love between them where they had "became one" in the sacrament of marriage.
Fr Jones said you never left the presence of John coming away with less than what you were before.
Following the mass, the cortege proceeded to the Woden Cemetery for the Rite of Committal.