Fr Henry Byrne; optimistic, enthusiastic, a 'doer'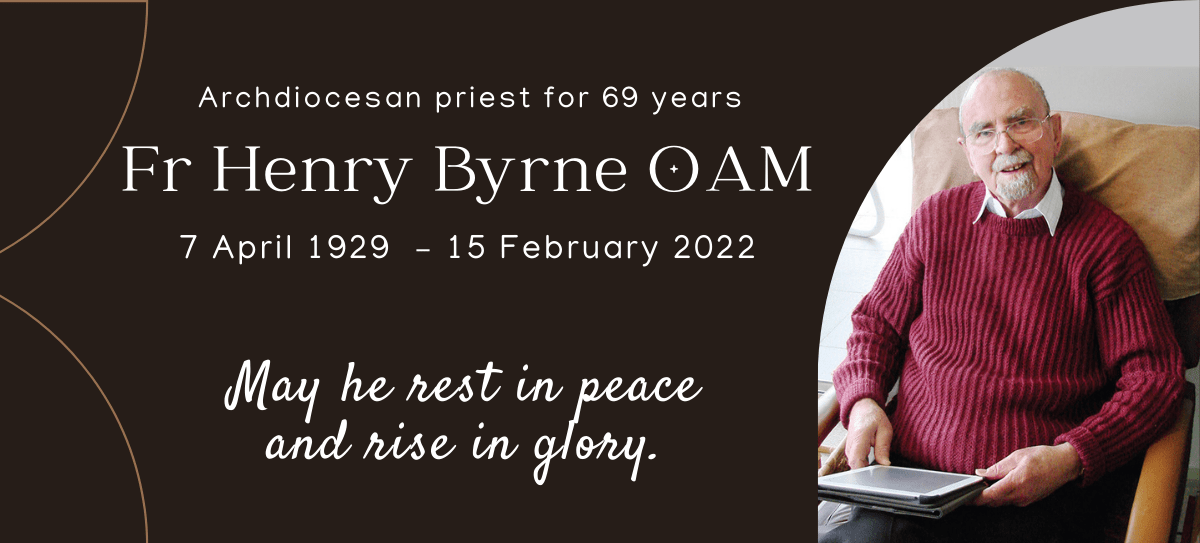 Aged 92, Fr Henry James Byrne, an Archdiocesan priest for 69 years passed away, on Tuesday 15 February. Below is an extract from the homily given at his funeral mass held at St Vincent's Catholic Church in Aranda.
HOMILY
FATHER HENRY BYRNE
St Vincent's Aranda, Thursday 24 February 2022
Monsignor John Woods, Vicar for Education
Bega, where Fr Henry was raised, to Canberra, where we gather this morning, is not far. However, if we consider the life of Henry we cover a lot of territory. The journey began and was nourished in Henry's family.
Born at the outset of the Great Depression, he received the loving support of his mother Bertha and siblings Kevin, Laura and Marie and the nurturing school and parish environment in Bega.
After time at St Pat's Goulburn, Henry entered St Columba's Springwood at the end of World War II before proceeding to St Patrick's Manly from where he was ordained in 1953.
Through his priestly ministry of word, sacrament and pastoral care Henry called others to new life in Christ in various parishes and more especially as Parish Priest in Jindabyne, Our Lady of Fatima, North Goulburn and St Bernard's, Batemans Bay from where he retired in 2003. Countless graced encounters in both the liturgy and pastoral outreach are recorded in parishioners' fond memories and in the heart of God.
Henry was a doer. He would have resonated with the recent claim of Pope Francis that one thwarts the movement of the Holy Spirit by narcissism, discouragement and pessimism. Henry was always optimistic and enthusiastic.
In the early 1980s, when Henry was Parish Priest of North Goulburn, I was Assistant Priest to Fr Laurie Blake at the old Goulburn Cathedral. I was impressed by Henry initiating a Goulburn-wide programme of outreach to 'inactive Catholics' involving a letterbox drop to every home and sessions in both parish churches. As always, Henry spoke with feeling and conviction as he sought to evoke a commitment to the truth and beauty of our Catholic faith.
Some years ago, a parishioner, whose two boys Henry had baptized, invited him to a round of golf. Henry agreed on the condition that the fellow would come to Sunday Mass beforehand. He did. Afterwards Henry commended him and said he noticed him putting money on the collection plate. The fellow said he did but instead of the dollar note he had intended to part with he reduced it to 50c after hearing Henry's homily! One can but try.
While at North Goulburn, Henry deepened his abiding relationship with the Josephite Sisters, including Srs Kerrie Cusack, Mary Murphy, Nolene Quinane and Colleen Howe. Similarly, Henry treasured his relationships with the Sisters at Jamberoo Abbey, especially Sr Antonia.
Henry had a simple lifestyle. He was an avid reader. He enjoyed a hit of golf and, when time permitted, he enjoyed watching football, tennis or cricket on TV. A good whiskey or wine was appreciated.
Henry's interests were enhanced by overseas sabbatical leave on no less than four occasions, the last being in 2012 at age 82 to prepare for his retirement. The fruits of these endeavours were evident in his pastoral ministry, especially in the Parish of Batemans Bay.
In conjunction with the faithful and never apart from them, Henry oversaw the move of the parish plant out to Batehaven. There the beautiful St Bernard's Church and parish school were built, with the Josephite convent alongside and the Maranatha Aged Care Home behind. Henry's later impetus saw to the development of the regional Carroll College at Broulee.
Henry was a member of the renown F-Troop, a priest support group. Its strength was the variety of fellows, including Henry's cousin Fr Brian Maher. F-Troop got away regularly for different activities, to relax, to pray and to share on whatever the topic of conversation.
Early in his retirement, I asked Henry what he was up to. He told me that he was enjoying his music, praying the Divine Office more assiduously, reading the Fathers of the early Church and preparing to die. The last comment threw me as Henry was then in good health.
On reflection, I understood him to mean that he was not so much doing as simply being with the One whose Spirit had enlivened his journey and with whom beyond death he hoped for fulness of life.