National Briefs
MARONITE Bishop Charbel-Antoine Tarabay has criticised last weekend's anti-lockdown protests in Sydney as unacceptable and "not a solution" to the problems. The Eparch of the Maronites in Australia, New Zealand and Oceania said, in a Mass livestreamed from Our Lady of Lebanon Church in Harris Park, that he shared the pain of those who were suffering isolation and the stresses of the lockdown including financial and health concern. "I have seen some footage of a so-called freedom rally in Sydney yesterday, and, let me be frank, it is unacceptable and does not reflect our freedom or our values to break the law and the public health orders," he said.
---
TWO new auxiliary bishops for the Melbourne Archdiocese Anthony John Ireland and Martin Ashe will be ordained in St Patrick's Cathedral on Saturday. The pandemic posed many challenges in planning public gatherings and ceremonies, and attendees at the ordination will be capped at 100 as per COVID restrictions. Archbishop Peter A Comensoli will be principal consecrator of the Mass and encouraged the community to continue praying for the two bishops-elect.
---
VETERAN television and radio presenter Mike Bailey has been fondly remembered for his great human decency, selfless charity work and unfailing commitment to his family and Catholic faith at his Requiem Mass. Mr Bailey, who worked in the Chancery office for the Sydney Archdiocese, died at the age of 71 after suffering a stroke. His parish priest, Fr Tom Stevens reflected on Mr Bailey's remarkable media career which saw him work across three TV networks, including over two decades as a weather presenter on ABC TV. He also served as chairman of his beloved Wests Tigers rugby league.
---
NOW is not a time for settling for the status quo in Church life – it's a time for priests and parishioners to partner in a new evangelisation, Wagga priests were told. Daniel Ang, Director of the Sydney Archdiocese Centre for Evangelisation, led the Wagga diocesan clergy conference at the invitation of Bishop Mark Edwards OMI. Nearly 40 clergy from around the vast Riverina diocese – one of Australia's largest – attended.
---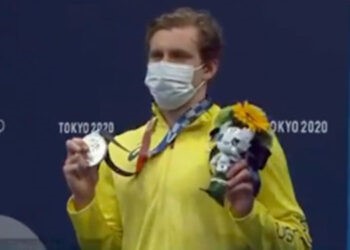 JUST 0.16 of a second separated gold and silver. That's how tight the finish was for Brisbane's former Catholic schoolboy Jack McLoughlin, pipped at the post in the Olympic men's 400 metres freestyle. An 18-year-old Tunisian swimmer Ahmed Hafnaoui from lane eight came home to win gold. But McLoughlin showed no sign of defeat. He was elated. It was at St Agatha's Primary School in Clayfield that he was first encouraged to give swimming a go. "Second Olympics, it's pretty good," the 26-year-old said after winning a silver medal.