Praying and paying; the times are changing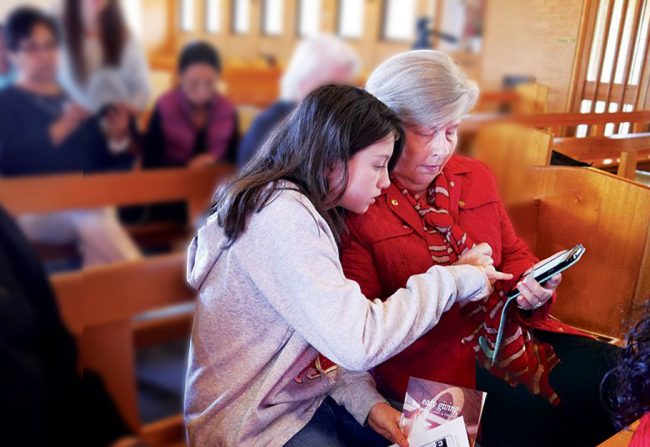 It's the end of an era. The collection plate at Mass has gone, never again to be passed by parishioners along the pews.
While churches this weekend can open their doors to congregations of 100, it also marks the official end of 'the plate' which has been a feature of Mass attendance for generations.
From Sunday June 21, the Archdiocese of Canberra and Goulburn will move to what it says will be a simpler form of collecting money for parishioners and parish staff.
Out with the plate and in with technology, meaning 'tap and go' terminals, direct debit and 'Qkr' apps.
The scrapping of collection plates has come about because of the coronavirus pandemic.
The ACT government has banned plates for hygiene reasons and Vicar-General Fr Tony Percy said it made sense to implement the rule across the Archdiocese.
"We have complied with COVID-19 health regulations from the beginning and that means collection plates can no longer be used," Fr Tony said.
"It does usher in a new era of giving.
"The reality is also that so many people don't carry cash anymore.
"We needed to provide alternative ways of giving and are trialling new systems."
Fr Tony said the new options would be simpler for parishioners and parish staff.
"Cash can be a nightmare," Fr Tony said. "At every step along the way, from the collecting and counting to the transporting and banking, cash creates problems.
"If you can do things without cash it is much safer and cleaner."
An information sheet for parishes explains the four options:
Direct Debit,
The Qkr app,
Tap and Go, and
Cash Collection Point.
The Archdiocese wants to encourage 'tap and go' terminals where people can tap their credit card and make a donation for a set amount.
The Qkr app involves parishioners downloading an app on their phone and choosing their payment amount.
Direct debit programs will continue to be promoted while collection points will allow for cash or planned giving envelopes.
Fr Tony last week met with clergy to discuss the new system and seek their views.
Some country clergy said older people preferred the traditional way of giving.
Goulburn priest Fr Joshy Kurien said it needs to be a gradual process.
"This could be a difficult transition for some people," he added.
Fr Mick MacAndrew said some of the Cooma community had been uneasy.
"But we'll give it a go," Fr Mick added heartily.
Queanbeyan priest Fr Troy Bobbin said it was important to clearly explain the changes and why they were necessary.
"We need to affirm people's generosity and explain clearly what we are doing," Fr Troy said.
Traditionally there have been two collections at Mass; the first collection for clergy and the second for parish maintenance and salaries.
Fr Tony said parishioners give as a response to Christ's gift of himself to us.
"We feel the need to give because we have received so much, and we are so grateful for what our parishioners do give," he said.
Attachments