Tathra: down but not out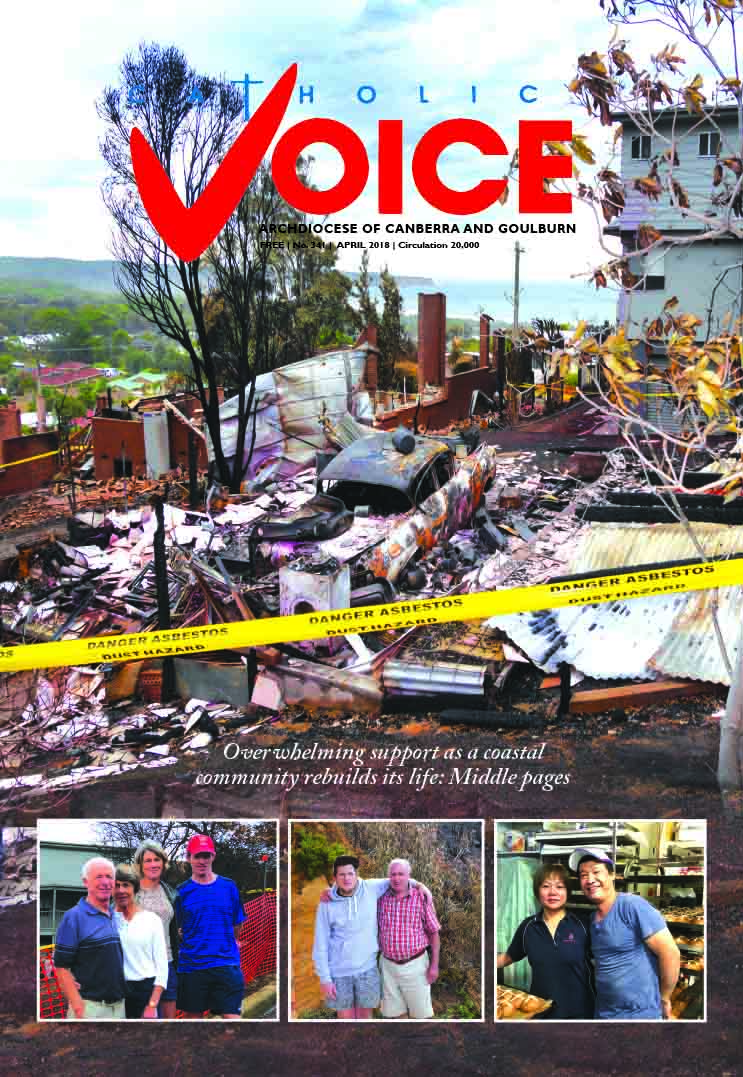 COME and visit us. That is clear message from the Sapphire Coast Council and the people of Tathra after a savage bushfire ripped through the community on March 18.
No lives were lost in the blaze but the popular seaside tourist town is reeling after 70 homes were burnt to the ground leaving a trail of destruction.
Phillip McDonald and Caleb Shaw
LAST year Phil McDonald, a well-known Catholic in the Bega-Tathra area lost his wife suddenly. Then 27 days later his 93 year old mother passed away. A few weeks ago he nearly lost his home in the Tathra Bushfires. The fire came within a metre of the home.
Many know him as the former owner and manager of the Bega Village Motor Inn. He retired in 2012.
Caleb Shaw, a former Canberran came to live with the McDonald's two years ago and was home on the day of the fires.
"I remember it was a very hot, windy day with the temperature reaching 48 degrees Celsius," Mr. McDonald said.
"I had been out to a Church Family Group luncheon and arrived home at 3pm.
"In less than an hour emergency services were advising everyone to evacuate.
"Eventually we learnt that three close neighbours had their homes destroyed and they lost everything."
Mr Shaw said it was a terrifying experience.
"By that stage there was a thick black smoke everywhere and the vision was at about 200 metres," he said.
"But the fire was close and it was starting to get really hot.
"We were trying to decide whether to stay and fight the fire or go to the Surf Lifesaving Club like many others.
"There were cars going everywhere and everyone was panicking."
The McRae's
TATHRA parishioners Colin and Pat McRae, cannot believe they still have their house and they are extremely grateful for the efforts of the firefighters. The couple managed to escape the blaze but they had embers on their veranda and the side of their house is singed. Their shed and backyard however were scorched.
"The heat was coming and I could see the fire up the back [towards the scrub on the edge of the town] and a gumtree took off and I was trying to fight the fire at the houses here," he said.
"Embers were flying around on the deck and a fire started at our shed."
Mr McRae had his two vintage cars in the shed, one which had been passed onto him by his grandfather.
He said he tried to put out a couple of spot-fires at the house next-door and got one of the cars out to the front.
Then in the panic and confusion he lost the keys to his Valiant Charger.
"It sat out there (the front of the house) for three days," he said.
"I then thought everything's gone, I've lost the shed."
Mr McRae said he couldn't sleep because he thought the house would be gone.
"The next morning, my son from Canberra saw on the television and took a photo of the house still standing," he said.
"He sent it to Pat on her phone and I woke up in Bega there on Monday morning and the house was still there. It should've gone to the ground. I don't know how [it didn't]."
The McRae's three children, Murray, Philippa and Erwin all live in Canberra and have been tremendous support for their parents.
"Family is so important," Mrs McRae said.
Parishioners giving of themselves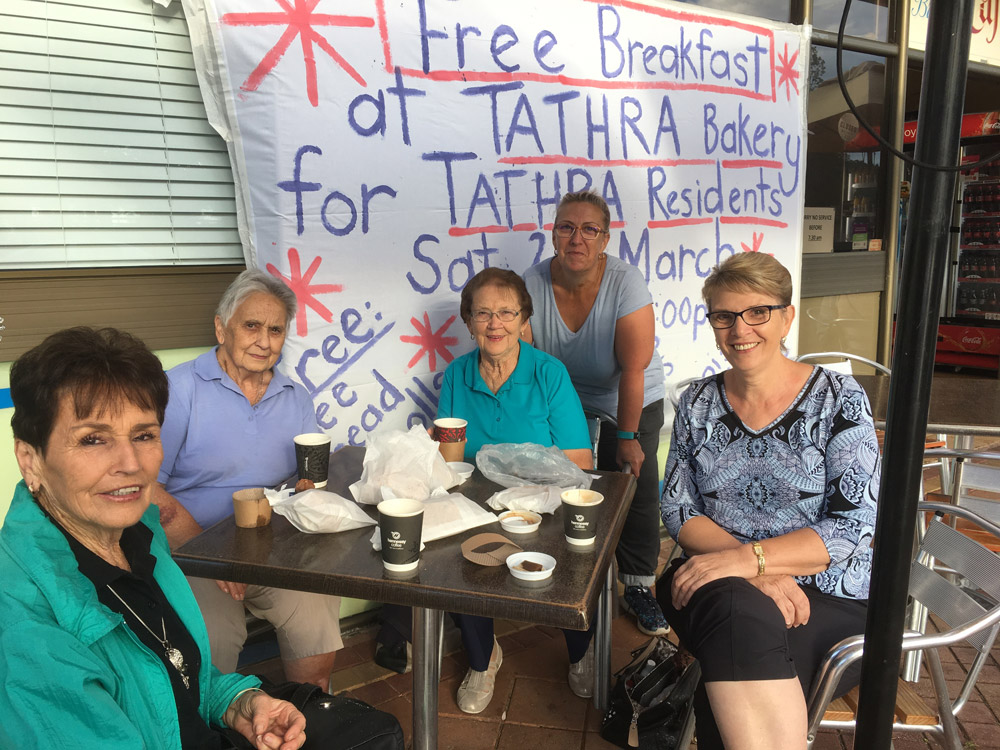 'For I was hungry and you gave me food, I was thirsty and you gave me drink' (Mt 25:35)
TIGHT-KNIT is how you would best describe the Tathra parishioners.
Each Sunday and Wednesday after Mass they come together for morning tea at Joe and Queyan's bakery in the town. This has continued in the weeks after fires came through.
Collectively they have given of themselves becoming involved with preparing meals as well as helping with clothing and sheltering for those who lost everything.
The small wooden Star of the Sea Parish Church which is based near the headland has been constantly used for prayers in addition to holding a few supplies.
Merimbula St Vincent de Paul Conference President, Christine Mabbott and Danni Koenigkamp from Bega 'Vinnies' have been going non-stop organising supplies since the fire broke out on March 18, while Warwick Fulton, the president for Vinnies in the Archdiocese also spent time at Tathra and Bega to show support.
Mass is celebrated in Tathra each Sunday morning at 7.45am and on Wednesday's at 9am.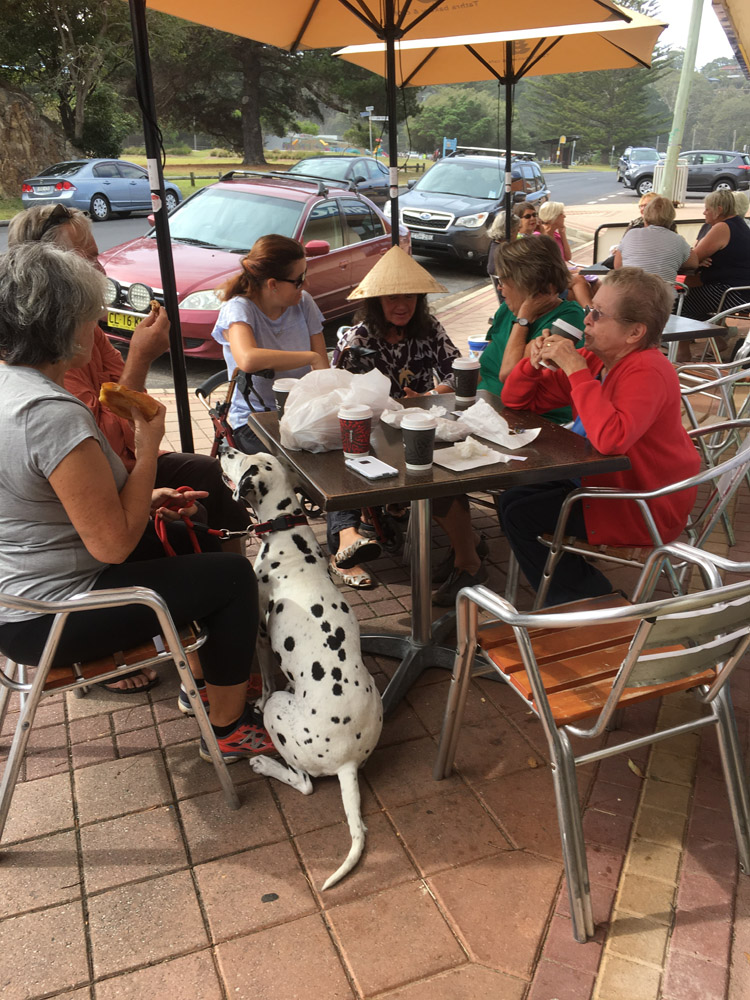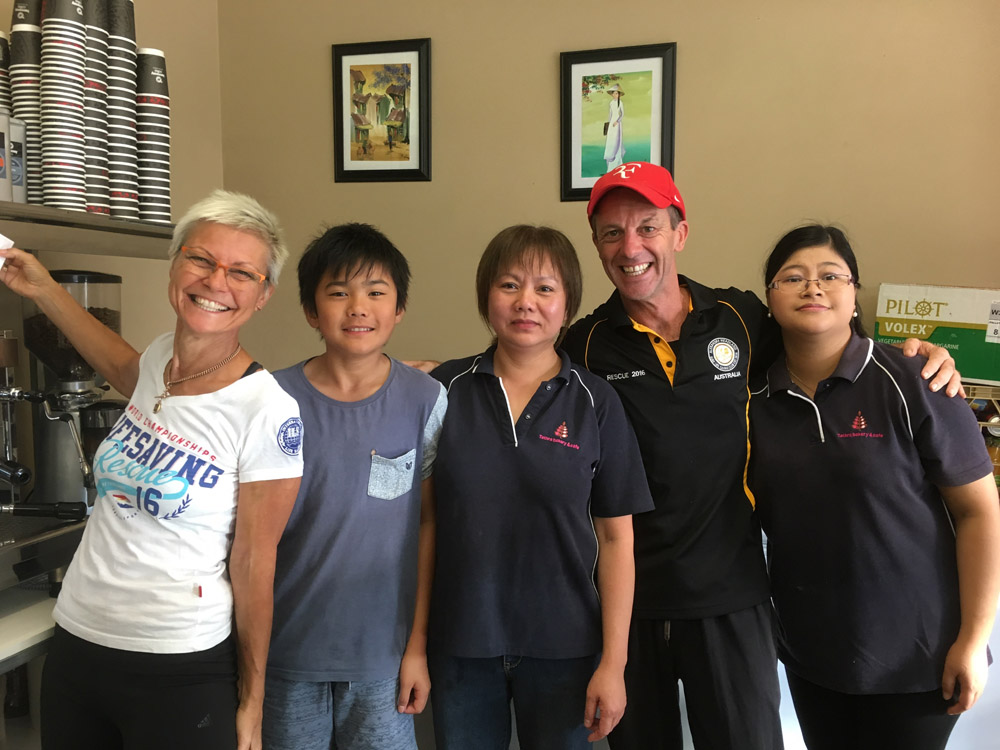 Local circus
Tathra parishioner, Les Maley, said that the local circus at Bega had offered free tickets to any Tathra children who have been affected by the fires.
Vinnies receive overwhelming support to victims
'Your gift to the Tathra Bushfire Appeal enables the St Vincent de Paul Society to support people struggling with the aftermath and the devastation caused by the recent fires.'
ST VINCENT DE PAUL in the Archdiocese say financial donations are the most effective way to quickly provide the right kind of assistance to people who need it most.
"We have received an overwhelming response in food donations which will be sufficient to serve the need of people affected by the Tathra bushfire," a recent statement said.
'Vinnies' Bega, which is supported by other Society centres within the Archdiocese, has also made available a large amount of quality clothing to the Tathra community.
"Our thoughts and prayers are with all those who have been deeply affected by the Tathra bushfires," the statement continued.
Please support the Tathra bushfire appeal
Below are three giving options:
Retiring collection: After each parish Mass on the weekend of April 7 and 8.
Vinnies website: https://www.vinnies.org.au/donate#!state=act&appeal=74
Qkr App: For those parishes currently using the Qlkr app, please refer to Vinnies Tathra Bushfire Appeal which will be listed under the "Special Appeals" option.
Archbishop Christopher Prowse encourages all to support the Vinnies Tathra Bushfire Appeal.
Others wishing to show their financial support can also visit any Vinnies shop in the Archdiocese. For a list of shops accepting donations please visit https://www.facebook.com/VinniesACT/ .
These donations support people affected by the fire with food, accommodation, counselling and much more.
Charitable act amid the despair
TATHRA Catholics, Joe and Quyen Nguyen, generously used their town bakery to host a fundraising initiative on March 24. The event was aimed at providing members of the Tathra community with a relaxed venue to congregate and talk about events of the past few weeks.
Residents were offered free coffee, pies, sausage rolls, donuts, hot cross buns, croissants, bread and bread rolls.
"This is an opportunity for our business to give to the people of Tathra," Mr Nguyen said,
"It's a time for people to come together and support one another at this tragic time.
"Sometimes you just need a place to sit and share your thoughts"
Approximately $3,000.00 was raised through donations made by visitors and Tathra residents during the Saturday morning and early afternoon. This money will be further donated to assist community members who have suffered significant loss as a result of the fire.
Participants in 'Breakfast at the Bakery' consumed 400 pies, 200 sausage rolls, 52 loaves of bread, 450 bread rolls, 350 donuts, 120 bottles of water, 330 hot cross buns, 150 croissants and 326 cups of coffee!
Tathra parishioner Marg Taylor said expressions of both heartfelt emotion and sincere appreciation were evident at the bakery.
"All agreed this was an amazing example of the good will and support that exists in Tathra," she said.
"Joe and Quyen are to be congratulated on their selfless initiative in bringing the people together at this special time.
A little girl's generosity
JENNY Mace, the deputy principal at Bega Primary School couldn't believe what she witnessed just days after the fire swept through the town of Tathra.
"I came across this little girl called Billie, whose dad was one of the firefighters," she said.
"I overheard her say that she wanted to give all her piggy bank money to the other children who are affected by the fires.
"That little girl's generosity almost brought me to tears."
Lumen Christi College Fundraiser raises $3000
SEVERAL teacher and students at Pambula's Lumen Christi College call Tathra home. Fittingly the College held a fundraiser on March 28 where they raised $3000. Lumen Christi Religious Education Coordinator / Catholic Identity, Eileen Reckord, helped organise the event.
"It was a fabulous day," she said.
"The kids were involved in all sorts of things with cake stalls, book stalls, hugs for sale and people offering all kinds of good will."
A message from the College: "The Tathra community have been hit hard by the fires, but the support they have received has been amazing. The students, staff and families of the Lumen community have been extremely generous and will continue to work hard to assist those most affected."
Archbishop's message and donation
The recent fires in beautiful Tathra has caused so much trauma and heartache to many. We offer our prayerful and practical support to all who are suffering.
Remarkable courage and faith has been shown by the close Catholic community of Stella Maris, Tathra, during the bushfire tragedy. Working with the parish priest, Fr Luke Verrell, the St Vincent de Paul Society and even the local Catholic bakery shop (the Nguyen family), the parish is responding fantastically. Let us all support them with our prayers and practical charity. The Archdiocese has given an immediate donation of $8000 to the Vinnies Appeal.
Archbishop Christopher Prowse