The battle for the Cobargo Church
Amid tragic stories of loss come tales of courage, determination and community spirit. On New Year's Eve, Cobargo residents Deb Taylor and Carolyn More found themselves in the fight of their lives in the battle for Cobargo Church. Here Deb and Carolyn share with the Catholic Voice their account of the day.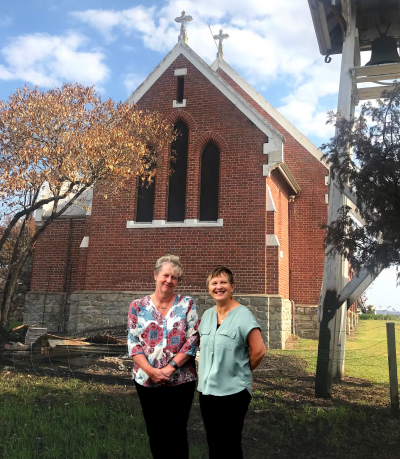 Deb: We received general warnings but it wasn't really ex­pected that the fires would come here. We're not really in the forest. You would have thought this town would be safe.
Everyone was surprised. We were watching the Fires Near Me app which showed a potential threat of an ember attack but it was a fair way away from us.
We got up at 4am, looked out the window and we could see it. We were very concerned about the older people who live down the street, so I ran to their houses to alert them.
It was totally underestimated.
You get sent text messages if you're in danger. Two texts came at 4.50am. "There's a fire in your immediate area. Decide whether to stay or go." And, "It's too late to leave. You're in immediate danger." We didn't actually see the texts until later because we were too busy.
We sorted out what we would do, getting the hoses together and buckets. We had known enough the night before to have clothes ready; woollen gear, masks, gloves, scarves to wrap around your head.
It was just the two of us. We've got the presbytery, the church, this convent where we live and Doris who lives next door.
I don't know if you've seen an ember attack but it's just like little bombs that fly through the air and wherever they land catches on fire. Then they fan out in a circle.
There was a north-westerly wind behind it which was push­ing the fire towards us. Because the paddocks were so dry, the paddocks just burst into flames.
Carolyn: Paul Tarlington's house up on the hill survived. His family go back to the 1800s. The windows in the back of the church were dedicated to the family and put it in by them. They were made in England and cost more than the whole convent.
There was a shed behind the church that went up. We were trying to save the bell tower so it wouldn't fall on the church. Losing it would have been a big thing, it's living history. The people attending this church now have great great grandparents who came here.
But when the wind changed the trees at the front of the church caught. The only way Deb could save the church was to chainsaw the tree down. At the same time the water stopped, which was pretty terrifying. It's amazing how close the fire came to the church.
Deb: About 4:30 everyone else was gone. We've met up with one of the nice firies who was there that morning. We think they dowsed the back of the presbytery with foam. I think we were very fortunate to have that happen before they actually knew the scale of the fire because it just went ballistic.
You're looking down the main street towards Cobargo and there are just balls of flame and you're looking over on that hill, more houses going up … and hearing the explosion of the gas cylinders.
Carolyn and I were left on our own among these five properties in the street. We love these old buildings. The presbytery is at one end and Doris' house is down the other. Every so often we would look in between the buildings, running and putting out little fires here and there.
At first the hose was working, but for a terrifying moment the water slowed, then stopped. The emergency services had diverted it. It is at that point you need to decide what can be left to burn and what should be saved.
We were lucky enough to have a group captain of the RFS who called up Narooma RFS and they put out the presbytery. I thanked them personally after it was all over.
Two texts came at 4.50am. "There's a fire in your immediate area. Decide whether to stay or go." And, "It's too late to leave. You're in immediate danger." We didn't actually see the texts until later because we were too busy.
Carolyn: We were liter­ally running from one place to another putting out embers. We could show a very good graphic of it because we were both wearing fitbits. As it turns out Deb should be dead. Her heart rate was in the 190's for four hours. I got eight fitbit awards on the day of the fires. I walked over 26,000 steps, nearly 20km – Deb did over 20km.
It was just crazy. The fences were burning and when the shed at the back went, I rang 000 and we were on hold for five minutes. They said they'd try to send someone but no one came.
Deb: There was an instance when I was on one end of the hose and Carolyn was behind me holding it up out of flames so it wouldn't burn. I think I was a bit disorientated.
Carolyn: I'm pulling this hose back, which has no one at the end of it. It's melting in my hands and the actual nozzle is still working though it had burnt. I didn't know where Debbie was but I can't go looking for her. I just had to focus; it was pretty scary.
We knew that if we weren't putting out the spot fires, the place definitely would have gone up. We didn't want to stop then. We've saved the buildings up to this point. We got into the swing of it and not long after we felt it had actually turned
I don't know how but we got through it. Next day I woke up and the weird thing is it didn't feel like day or night. It was dark for days with this red and orange glow. It's a bit like jet lag; you are totally time disorientated.
Deb: We didn't have power, we didn't have water. No one could get into Cobargo, no one could get out.
People in the town were really pleased we had looked after the "Catholic Precinct". I understand Fr Joe Tran, the Parish Priest of Cobargo had received news during the fires that all the build­ing had been lost. That would have been tradgic. We spent the next three days madly cleaning up all properties beacsue it was predicted there would be another wave of extreme weather.
The day after the fires was so surreal. The red. The winds, the hot winds, the red sky. And then the total black. Totally black and then raining ash. You feel so isolated, and I think in shock.
The people who lost houses, there's a lot of them up the back end of this street, but at the same time, there is a bit of resilience.
There was an attitude of "I'm just going to get on with it. We're going to deal with it and get through it and move on." There's a lot of worry about the future of the town, seeing the historic buildings that went in town.
This week there's been a lot of activity: people coming, because the church is open every day and people come in. They are great buildings. That's why people love this street. And you do have a sense of civic custodianship.