The Scottish love affair continues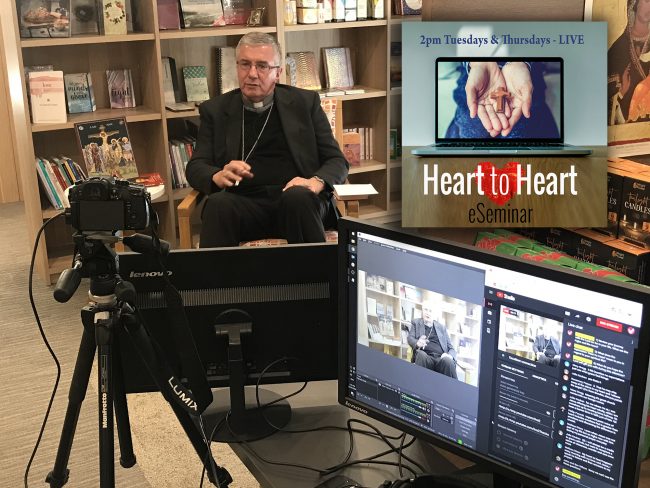 The Archdiocese's love affair with a clan of Scottish Catholics is growing with a group praising Archbishop Christopher's Heart to Heart livestreamed seminars.
Scottish priest Fr William McFadden wrote this week to say they had been a hit with his congregation who were hooked on the twice-weekly talks.
"I wanted to let you see some of the comments I have received from my parishioners who are engaging with the Heart to Heart series," Fr William wrote.
"It really is being well received and good for you to know that it is being followed and appreciated here in Scotland by a good number of interested participants.
"You are making a great impact in this part of the world."
Fr William and Archbishop Christopher are friends, with the pair first meeting as students in Rome in the mid-1980s. A Scottish fan club developed during Holy Week as a group of Fr William's parishioners tuned in to the Easter services livestreamed from the crypt at St Christopher's Cathedral.
Now Archbishop Christopher is nourishing his Scottish followers with his Heart to Heart series which kicked off last week.
The emails shared by Fr William include:
"I was impressed with Archbishop Christopher's first presentation: sincere, well planned and a simple memorable plan with apt quotations and prayers. He is not in a rush, but imparts an amazing amount of material in a short space of time. I will aim to follow all the talks." Mary
"Thank you for this. He is brilliant. Just had a really prayerful time listening to session one." Charles
"He has a lovely voice to listen to quite apart from what he says, so I look forward to hearing more." Agatha Ann
"That is just what I needed. It looks wonderful. I was saying to someone today that I was feeling a bit all at sea, and here is some guidance. Perfect timing." Jennie
"Thank you for this link Fr William. A very easy man to listen to. I will enjoy this seminar." Terry
'Heart to Heart' is a 10-part online series at 2pm each Tuesday and Thursday where Archbishop Christopher leads a discussion about going deeper in our Catholic faith.
"This time of isolation is an ideal opportunity to encounter the depths of God and make the great journey from the heart of God to the heart of each one of us," he said.
The series started on April 28 and continues until May 28.