Evangelise always – if necessary use words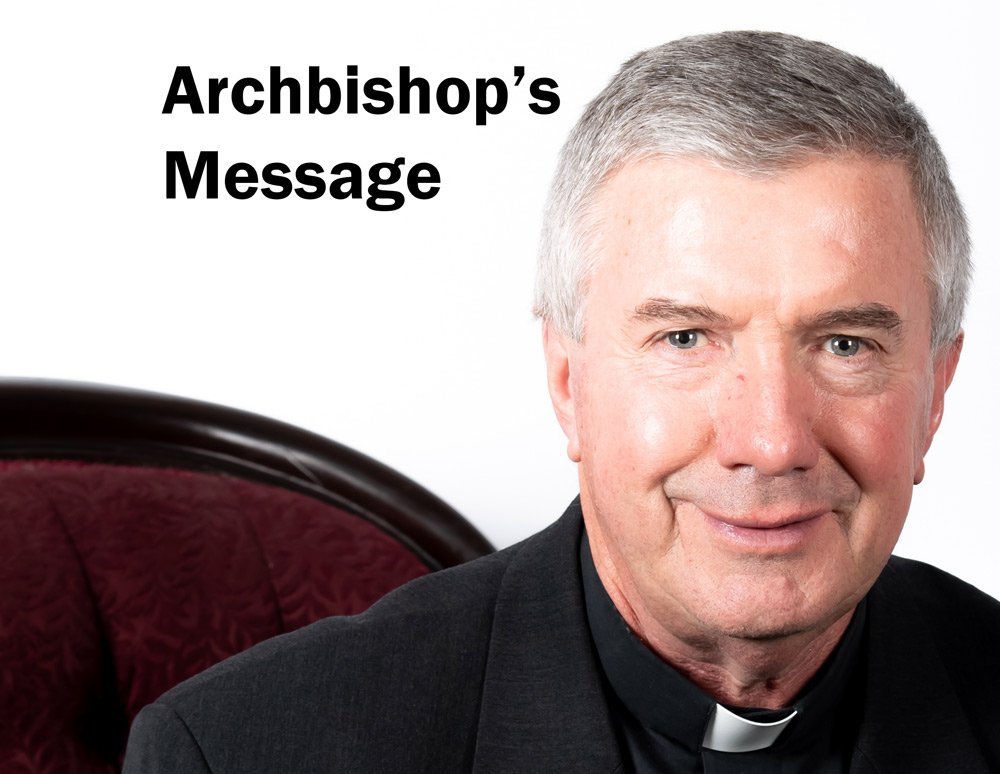 BY the time you read this message the bishops of Australia would be soon returning to Australia after our Ad Limina Apostolorum visit to Rome. I wrote to you about this in the last edition of Catholic Voice (June 2019).
No doubt one of the predominate encouragements we would have received is to evangelise the Good News of Jesus Christ and the Kingdom of God in Australia no matter what challenging sociocultural situation is presented to us all.
Especially since the Second Vatican Council (1962-1965), the Catholic Church has entered a golden age of teaching on evangelisation. Incredibly, there are still many, however, who are suspicious of even this term. It seems to connote for them some form of imposing the Catholic Faith on others (proselytism).
In fact, Catholic evangelisation is the exact opposite of this. It PROPOSES Jesus in season and out of season to the world but never IMPOSES.
Recent Popes teach that evangelisation proposes Christ "by attraction" more than words. In a sense, we "perfume" the world with the fragrance of Jesus. As St Paul proclaims, "To God we are the fragrance of Christ" (2 Cor 2/15). To St Francis of Assisi (1181-1226) is attributed the following helpful expression: "Preach Jesus and, if necessary, use words".
In Rome itself you can observe this wordless evangelisation even by making a pilgrimage to the major basilicas as the Bishops of Australia have so recently done. Here architecture evangelises our eternal Christian mysteries.
For example, there is St Peter's Basilica built on top of a cemetery on Vatican Hill housing the tomb of St Peter. It is also built on the top of a major entertainment arena of the Roman Empire (the Circus of Nero) where brutal games were played and Christians executed (including St Peter). The only object still visible from these times till now is the giant Egyptian obelisk in the centre of St Peter's Square.
Like an "eye" silently observing thousands of years of human activity (built around 2,500 BC), it is placed on a plinth upon which is written that Christ overcomes all and reigns forever! A Cross is placed on its top. What an everlasting message of salvation! An obelisk that evangelises on such an historic site for Christians!
Also, so many of the Churches of Rome are built upon marble taken from the ancient ruins of the Roman Empire. These basilicas too are often actually built upon the ruins of temples to pagan gods. Often pagan temples were not to be destroyed but converted to Christian use (eg. The Pantheon over the Temple of all gods, and Santa Maria Sopra Minerva over the Temple to the Egyptian goddess, Isis).
These are wordless proclamations, not that Christianity has imposed herself and conquered, but that Jesus fulfils all that has gone before Him. It is a timeless message of evangelisation that was consistently showcased in the first millennium of Christianity. With the Spanish colonial evangelisations of the second millennium, this approach was, sadly, often eclipsed.
The challenge for Christians always is not to decide whether or not we ought to evangelise. To evangelise by sharing with everyone our saving encounters with Jesus our Lord and Saviour is our greatest joy and duty.
The challenge is to find the most "fragrant" method of evangelisation for our time and place in Australia during our Plenary Council period and beyond.
Ultimately, it becomes a matter of communal discernment for us all to consider at this time.
In his recent Apostolic Exhortation (March 2019) to young people, Christus Vivit (Christ Lives), Pope Francis offers timely advice on communal discernment (n.291-298). It is directed to young people considering their vocational calling. However, the three kinds of sensitivities that the Jesuit Pope offers to individuals can help us all discern God's will in a communal manner. It is based, states the Holy Father, on our ability to listen.
Pope Francis writes of the first sensitivity directed to the individual. There must be a willingness to listen. This requires time and giving "space" to whatever is shared. The biblical example of Jesus with the disciples on the way to Emmaus comes to mind (Luke 24/13-35).
The second sensitivity is marked by discernment. "It tries to grasp where grace or temptation is present" (n.293). It tries to discern what the Holy Spirit is saying as distinct from "the traps laid by the evil spirit… it takes courage, warmth and tact."
The third sensitivity concerns "to perceive what is driving" us (n.294). It is a matter of discerning ultimate intentions. It is deeper than mere thoughts or feelings. It is the challenge to discern "what is most pleasing to the Lord".
All of this concerns accompanying each other on the journey of faith – the real meaning, surely, of what our Plenary Council is all about.
The Bishops of Australia spent some generous days together in retreat considering what communal discernment is all about in our Catholic/Christian context. Let us all consider this vital topic together as we discern "what is pleasing to the Lord" for the future evangelisation of Australia.