'Top-class' Clare Holland House Hospice no longer in Calvary's care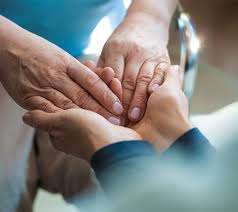 Archbishop Christopher Prowse paid tribute to Clare Holland House this week in the wake of news the facility will be turned over to the ACT Government from 3 July this year.
"Following on from the hostile compulsory acquisition of Calvary Public by the ACT government, our concerns have been about the future of our beloved Clare Holland House – our hospice service, also conducted by Calvary Public," he said.
"After careful scrutiny, Calvary has indicated with a most heavy heart that the best manner for continuing this service is to step back and allow Canberra Health Services to operate it."
Calvary announced the "difficult decision" to step away from delivering services at Clare Holland House to ensure the integrated care model is preserved for patients and staff earlier this week.
Calvary National Chief Executive Martin Bowles said Calvary and the ACT Government had worked together to understand the operations of Clare Holland House.
"Calvary and the ACT Government have mutually agreed on the future of Clare Holland House and access to public palliative care services in the Territory is best supported by remaining directly connected with the public hospital to ensure continuity of care for patients needing public palliative care services," he said.
"It is with a heavy heart that we have come to this decision, but in our view, Clare Holland House is not a separate service and patient care is our priority."
Archbishop Prowse said, as always, Calvary had based the sad decision on what was best for the patients and the staff.
"The whole Archdiocese owes an incredible debt of gratitude to Calvary for ensuring Clare Holland House since 2001 has been a top-class palliative care hospice of national significance," he said.
"I know of so many families that would share these sincere thanks for deeply family and personal reasons. We will be forever grateful."
Calvary has provided highly valued, specialised palliative care services to Canberrans since 1995, with hospice services provided at Clare Holland House in Grevillea Park since 2001.
As the ACT government moves towards legalising voluntary assisted dying next year, Archbishop Prowse had previously stated Clare Holland House would not offer euthanasia under the operation of Calvary.
"I can speak with certainty that it won't be offered in any of our healthcare facilities," he said last month.