Write It Down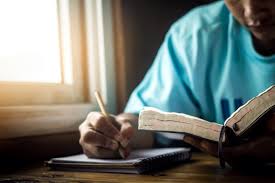 It just takes a few moments.
The experts say that if you 'write it down,' you will remember it.
Advent has begun. The word means 'coming,' 'presence,' or maybe 'arrival.'
God comes to us in three ways (Augustine):
In the flesh and in weakness – first coming
In power and in Spirit – now
In glory and in majesty – second coming.
Pope Emeritus Benedict XVI (2009):
God enters my life and wishes to speak to me.
In our daily lives, we all experience having little time for the Lord and also little time for ourselves. We end by being absorbed in 'doing.'
Is it not true that activities often absorb us? Is it not true that we devote a lot of time to entertainment and to various kinds of amusement?
What might make a difference?
To keep, as it were, an 'interior journal' of God's love would be a beautiful and salutary task for our life!
Why don't I try and take note of how God enters my life – on a daily basis?
Just a few moments to notice the way God comes to me.
This way 'the whole of our life' is like a visit from God.'
Amen.