A new spirit to Anzac celebrated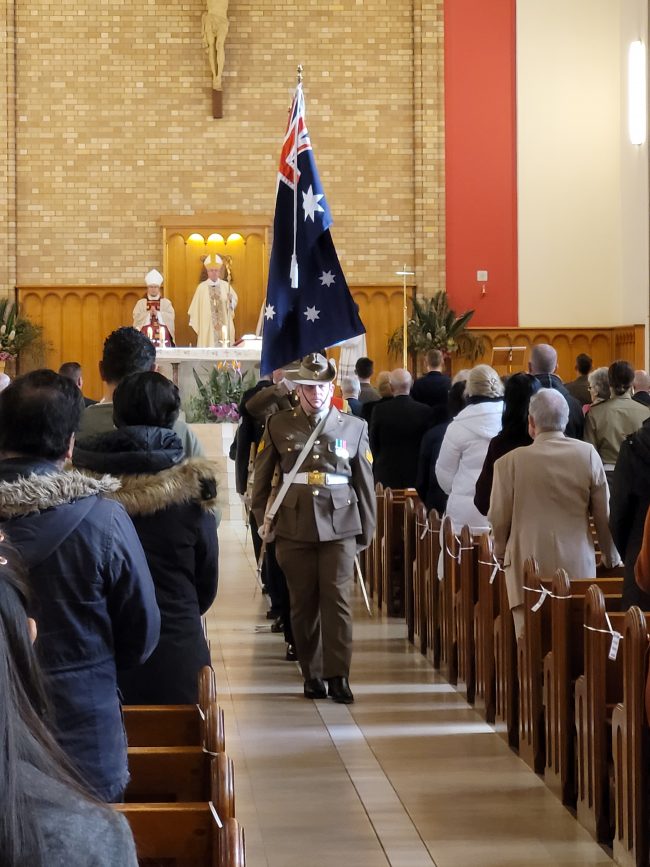 The Anzac spirit is alive and well in today's Australia, according to Monsignor Peter O'Keefe, Vicar General of the Catholic Military Ordinariate of Australia.
He was speaking at the National Anzac Day Mass at St Christopher's Cathedral in Canberra.
Mgr O'Keefe concelebrated the Mass with principal celebrant Archbishop Christopher Prowse. They were joined by Papal Nuncio to Australia Archbishop Adolfo Tito Yllana.
In his homily, Mgr O'Keefe said the day was one of remembrance, not only for the more than 100,000 Australians who had paid the supreme sacrifice but for those veterans who suffered daily the scars of war, physical, mental or spiritual.
It was a moment to reflect on those families left behind who would forever be immensely affected by war, especially mothers, wives and sisters.
He drew a connection to all those who have served the Australian community in recent times.
He referred to health, emergency, volunteer and other workers who brought a "new spirit, a lifesaving generosity" to the nation over the past 18 months during the COVID-19 pandemic, and during bushfires, floods and cyclones.
"Truly the Anzac spirit is alive in our citizens emulating the qualities of Anzac: courage, selflessness, determination, heroism and self-sacrifice," he said.
Following last year's cancellation due to COVID, the Mass marked a return to a national Anzac Day service at the cathedral that has taken place for more than 30 years.
This year, a full COVID-spaced congregation celebrated.
Officer cadets and midshipmen from the Australian Defence Force Academy comprised the Ensign Party, responsible for solemnly placing and retrieving the colours of the Australian Defence Force on and from the sanctuary of St Christopher's.
The Last Post followed by One Minute of Silence and the playing of the Reveille concluded the service.