Eden's Mary MacKillop pilgrimage now in its third year
There's a saying that the third time's the charm, but Eden is always charming, and never moreso than during the annual pilgrimage to in honour of St Mary of the Cross MacKillop.
The continually growing pilgrimage, now in its third year, will be held on August 10 with Archbishop Christopher Prowse participating once again.
Archbishop Christopher has urged people from across the Archdiocese to join him in what he describes as a wonderful and significant pilgrimage.
"I'm very keen to develop a great love for Mary MacKillop, as she so loved Eden," he said.
"It was the place of great devotion to Mary due to her mother's death in the ocean nearby. The parishioners were most hospitable to her mother.
"St Mary of the Cross MacKillop never forgot their generosity and hospitality of her mother's body at the time of her death. The Josephite Sisters have been there ever since."
While many pilgrims organise their own transport to Eden, a number of parishes are well into organising transport to the pilgrimage.
Corpus Christi Parish at Gowrie have booked a coach to depart at 7.30am on Saturday August 10 expected to return home by around 6pm that night.
Interested parties are urged contact the Parish Office by July 26 on 62916688 or at tuggeranongsouth@cg.org.au.
If other parishes are arranging their own transport to the pilgrimage and would like to promote that, please contact us on catholic.voice@cg.org.au so we can share your details.
RELATED: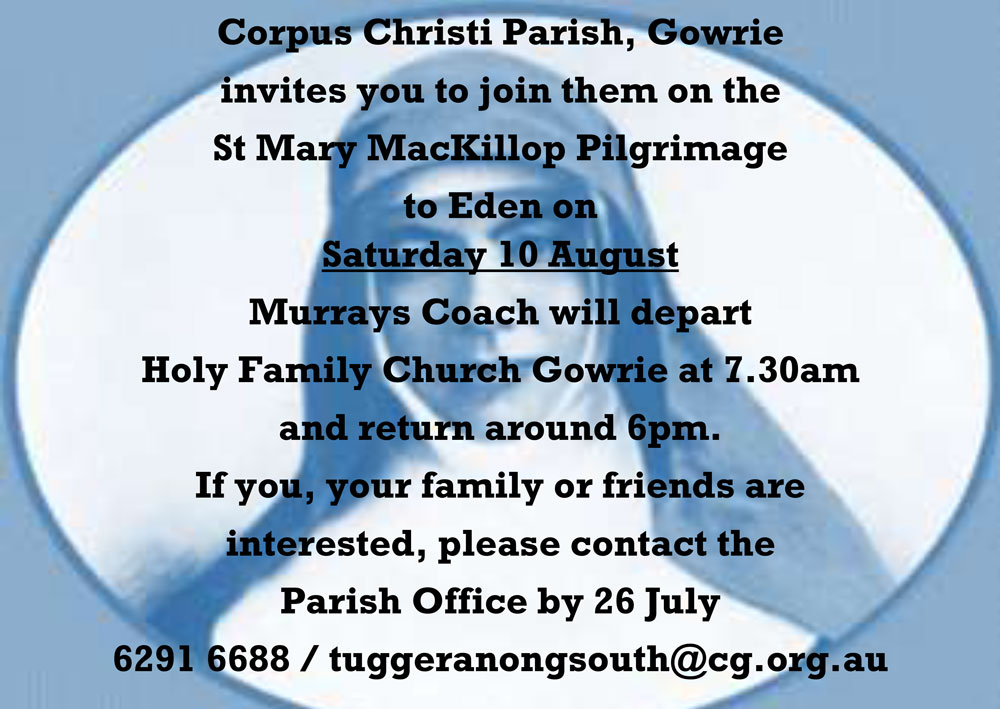 Photo Gallery