Homily – Jesuits farewell from Canberra, Feast of Ignatius Loyola
Jr 20:7-9
1 Cor 10:31 – 11.1
Lk 14:25-34
After 51 years, we Jesuits are leaving the national capital.
Let's hope it's not a case of laying foundations and not being able to finish. Otherwise you will be ridiculing us, repeating the words of today's gospel, 'They began to build and they were not able to finish.'
We Jesuits have to admit that the original decision to come to Canberra was fairly rushed. We can't claim to have done all the due diligence like the tower builder or warring king in the gospel, first sitting down, estimating the cost and seeing whether we had enough to complete the task – whether it be the building of a tower or the defeat of an enemy.
Until 1967, the Jesuits in training would do their university studies in Melbourne. In December 1967, the Jesuit superiors announced that those Jesuits commencing university studies in 1968 would come to Canberra and enrol at the Australian National University. Just two months later, 14 Jesuit scholastics arrived, accepting the hospitality of the Dominicans at Blackfriars in Dickson. Now that was a case of true ecumenism and Christian fraternity.
Later that year, Fr John Eddy arrived fresh from Oxford with his doctorate in History. John took up an academic appointment in the Research School of Social Sciences at the ANU. For John, Canberra was home until his death 43 years later in 2011. John was a landmark feature in Canberra's Churches, coffee houses and corridors of academe.
One of the first Jesuit scholastics here in Canberra was the budding writer Gerard Windsor who wrote during the first term of the 1968 academic year: 'It was believed that ANU was small, friendly, not at present difficult to be accepted for, of considerable academic standards, and possessing an excellent staff-student ratio. The Society (of Jesus) should, it was also felt, have a house in the national capital.' He concluded: 'Living here at Blackfriars can, of course, be only a temporary arrangement. Our future in this house, and the future of the Society in Canberra are, at the time of writing, still in doubt. If we leave either it will certainly not be due to any lack of generous Dominican hospitality nor to any positive dissatisfaction with the Australian National University.'
After the first couple of years, no further Jesuits scholastics came to Canberra for university studies. The short-lived Jesuits' Blackfriars/ANU experiment concluded in 1971 when the first batch of students completed their degrees.
One of that batch, Fr Patrick Mullins is concelebrating at this evening's eucharist. Others of that batch have given distinguished service in diverse aspects of the national life here in Canberra. Think just of Michael McKernan at the War Memorial and Allan Behm at Parliament House and in national security.
We Jesuits then bought a large house on a double block in Yarralumla. The house had been built as a doctor's residence with a downstairs surgery. It was then bought by one of the first computer companies which was unable to use it as a principal place of business.
Over time, Xavier House became known as 'the Jesuit embassy', as various embassies were constructed nearby, including the European community, the Spanish and the Irish who joined the already existing German and Dutch embassies.
With the Jesuit scholastics having moved back to Melbourne for university studies, Canberra became the base for a small Jesuit community of priests. John Eddy worked at the university. Often there would be a Jesuit working at the apostolic nunciature – over the years, this job was done by Frs. John Doyle, James Muirhead, John Eddy, and Peter L'Estrange.
Fr L'Estrange is one of the concelebrants here this evening. The nuncio cannot be with us but he met with Fr Provincial yesterday and sends his prayers and best wishes, noting how much he is already missing the Jesuit assistance. Jesuits worked throughout the archdiocese doing parish supplies.
Fr Des Purcell loved getting out to the country parishes and providing spiritual direction in the ways of St Ignatius Loyola. When home, Des planted the roses in our garden, though John Eddy never approved, asking, 'Who'll care for the roses when Des is away?' I have to confess that John was right. But we did enjoy the garden when Des was here to care for it.
The sedate house accessible to the National Library provided an ideal base for Jesuits wanting to write and research. Fr James Flynn was an acknowledged authority on Christian-Muslim relations. Fr David Strong wrote many works on Jesuit history. David is also concelebrating with us this evening.
Fr Bryan Buxton wrote on faith, culture and the arts. I would often come to Canberra to write on Aboriginal, refugee and human rights issues. Jeremy Clarke came and completed a PhD on the Church in China, and Fr Pat Mullins returned for a second stint at the ANU to complete an MA on the Church's involvement in Aboriginal communities.
Jesuits from Indonesia and the Philippines came for graduate studies at the ANU as did an Indonesian Franciscan. Canberra was also a good base from which Jesuits could contribute to the work of the Australian Catholic Bishops Conference. Fr John Reilly was National Director for Continuing Education of Priests.
Fr Richard Leonard would visit as Director of the Australian Catholic Office for Film and Broadcasting. I spent the last couple of years as CEO of Catholic Social Services Australia.
Over these last 51 years, Jesuits would often assist in the parish at Yarralumla and in surrounding parishes. Many of you still talk about Peter L'Estrange's learned homilies and John Eddy's encyclopaedic knowledge. Jesuits from overseas would often stay as visiting scholars at the ANU.
Fr Jeff Von Arx from the USA worked with Fr Eddy setting up the Center for Australia New Zealand Studies at Georgetown University in Washington DC. Fr Eddy also established the Australian Institute of Jesuit Studies.
When the new Parliament House opened in 1988, 'the Jesuit embassy' came within walking distance to our legislators. Over the years, the house has hosted many off-line meetings and media briefings. It has often been useful being able to pop across to Parliament House or to the press gallery regardless of the hour of day.
A monthly 'Jesuit Discussion Group' has provided a great forum for listening and learning with church members gathering in the conference room to reflect on the events of the month in light of our faith and shared Catholic tradition. And many members of that discussion group are here in the congregation this evening.
Canberra has been a great hub from which a handful of Jesuits has been able to reach out to the wider world.
The spirit of the Jesuit contribution in Canberra this past half century is summed up in what I said about Fr Eddy at his funeral in this cathedral on Remembrance Day 2011: 'Though spending most of his Jesuit life here in Canberra, John experienced his missionary call to the frontiers. His life of the mind, his infectious sociability, and his delight in all human achievement from a faultless tennis backhand to a spine-tingling opera aria by Joan Sutherland made him open to possibilities well beyond his own comfort zone and competencies.'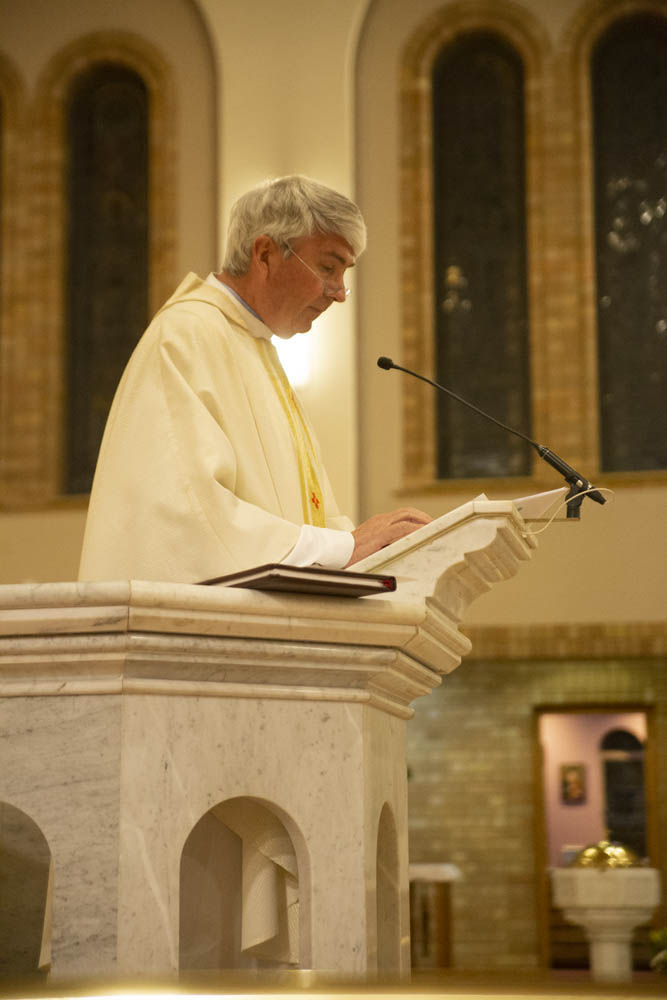 At our best, we Jesuits in Canberra this past half century have embodied and enacted the 2008 declaration by the General Congregation of Jesuits:
'The complexity of the problems we face and the richness of the opportunities offered demand that we build bridges between rich and poor, establishing advocacy links of mutual support between those who hold political power and those who find it difficult to voice their interests. Our intellectual apostolate provides an inestimable help in constructing these bridges, offering us new ways of understanding in depth the mechanisms and links among our present problems.'
Fr Stephen Astill who is also concelebrating with us this evening will remain in the archdiocese continuing the Jesuit tradition of assisting in the parishes. He has now been appointed administrator of the parish at Moruya where he is developing a taste for the local oysters.
But it's time for Peter L'Estrange and me to move on to other places. Gerard Windsor was right when he opined half a century ago that our departure from Canberra is not 'due to any lack of generous Dominican hospitality nor to any positive dissatisfaction with the Australian National University'. These have been blessed years here in the national capital. Fr Eddy was fond of saying, 'You don't have to make a case for a Jesuit presence in a national capital.'
But alas, we no longer have the personnel on hand, and there are apostolic demands elsewhere. We leave with regret, but grateful for the many seeds that have been planted at the Jesuit embassy in Yarralumla and appreciative of all those who have supported us and encouraged us.
Three years after arriving in Canberra, John Eddy looked back over the previous 50 years in Australian Catholicism noting that 'even in 1921 when John O'Brien praised the "same dear happy circle" of the Irish Australian family around the "Boree Log", he went on, with some wistfulness, to mourn the scattering which was already breaking up that warm group.'
John said, 'Fifty years later only a poet of abnormal insight would dare to sing so intimately of the complex community of (those) who go to make up the Australian Catholic Church.'
He wrote, 'Radical periodicals come and go. Practice remains high, but there appears to be in church life, as in other areas of Australian life, a potentially dangerous element of frustration.
Unintelligent insistence on what is believed or imagined to be rigid orthodoxy and suspicion of "intellectuals" can bruise the adventurous and stunt initiative. A greater danger is perhaps still apathy, cloaked by a gentle irony or a cynical cult of passionless mediocrity. Co-responsibility in the Church has yet to find its authentic Australian flowering'.
Almost another 50 years on, we are preparing for a plenary council still wondering how that co-responsibility might find its authentic Australian flowering. Our nation and our Church are still to conquer those dangers of apathy and the cynical cult of passionless mediocrity.
Twenty eight years ago in this Cathedral, John Eddy celebrating the funeral of Manning Clark told the congregation 'that one day they would all be united with Manning in paradise'. Whatever we eat or drink, whatever we do in the future, let us do everything for the glory of God giving no offence to Jews or to Greeks or to the Church of God.
In the first reading for this feast of our founder Ignatius Loyola, the prophet Jeremiah proclaims: 'within me there is something like a burning fire shut up in my bones'. At the most recent General Congregation of the Jesuits, our leaders were so bold as to declare 'Filled with the fire of Christ's mercy, we can enflame those we meet.
This foundational experience of God's mercy has always been the source of the apostolic audacity that has marked the Society (of Jesus) and which we must preserve.' As members of an ageing and diminishing province at this moment in the cycle of the Spirit, we Australian Jesuits are bold enough and faithful enough to look to you for that apostolic audacity in testing times.
Together, though now separated by geography, let's continue to pray the blessing of today's psalm: 'Taste and see that the Lord is good…They lack nothing, those who fear him….Those who seek the Lord lack no blessing.'
On behalf of the Jesuits living and dead who have been privileged to serve you here in Canberra, I thank you.
RELATED LINKS: