The heart of a country kid is with Mum and Dad on the farm
The back-to-school fire drill is on hold at St Mary's Primary in Batlow.
Do those 45 kids really need to hear another alarm going off, after the recent drama of the bushfires that claimed their families' homes, sheds, machinery and fences?
"We've put it off for now," principal Jannine Richards said.
"The kids came back quite resilient but we're watching them carefully.
"It's about being vigilant. We know that trauma can emerge further down the track.
"Most families left town quickly but about 50 per cent of our dads stayed to fight the fires. The images were all over TV. The kids knew what their dads were going through."
Two St Mary's families lost their homes, while most lost sheds, fences and equipment.
One family lost their liveli­hood. They were about to open a 'glamping' tourist venture in the bush near Tumbarumba. All the advertising was done. Now there's nothing to sell.
"If the bushfires did anything they showed we have a real community here, a very proud community," Jannine said.
"We're Batlow and we're strong. Even though we've been through a tragic set of circumstances and there is a lot of work to be done, it has strengthened our community."
Jannine was anxious to contact families during the bushfires and to know they had heeded warn­ings to evacuate. She offered her Tumut home but all she received were two pet rabbits to care for.
The school, which celebrates its centenary in three years, held an Open Day on January 14 so families who had spread far and wide when Batlow was evacuated could be together and talk.
"People were walking around stunned," Jannine said. "One grandparent said just coming through the gates was emotional, to see the school still standing.
"The grandparents are the backbone of our community. Their children attended the school and now their grandkids. They are so connected."
At Adelong, principal Kirsty Beaven said a lot of the boys did not want to return to school. They wanted to help dad on the farm as there was so much work to do.
"The fires started at Yaven Creek where most of our families live," the St Joseph's principal said.
"There are horrendous stories. So many kids were evacuated, some up to three times. It was very stressful for them, as their parents were left to defend their properties with no tankers or support. Some of the children did not want to return home afterwards.
"Most of our families saved their homes but lost a lot of stock, sheds, equipment, fences and feed."
"They have seen something you hope they will never see again in their lifetime."
– Kristy Beaven
Returning to school has been important for the children.
"They need to be kids again," Kirsty said.
"They have seen something you hope they will never see again in their lifetime. I know where their heart is; it's with Mum and Dad on the farm. But Mum and Dad need a bit of normality too."
---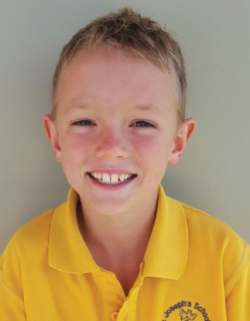 Dunns Road Danger
It was a very scary holiday. As the Dunns Road fire started, we could see smoke rising over the hill. The next minute Dad zoomed off. Dad jumped into the Darlo 7 with Julian. 30 seconds later "GET IN THE CAR! TOBY, GRAB BLACKY! LET'S GO!"
It was very scary laying there every night wondering what could happen to mum and dad. It was even more scary because mum and dad said it was going to get us. We were waiting for days and days. It went on and on. It was endless, cat­tle in the morning out of a night.
When the fire actually hit my mum and dad were fighting a heat wall of flames for around 2 hours. It was really tense, scary and very very dangerous. If they didn't fight the fire we wouldn't have a home.
That was the worst holiday of my life. I hope no one ever goes through that again.
By Toby, 9 (St Joseph's)
---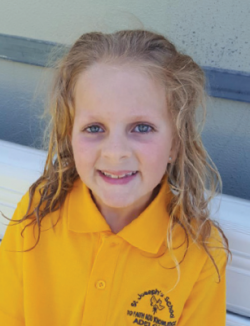 Faith's terrible horrible no good holiday
My dad has been fighting fires. My tummy has been hurting. I went to a secret hiding spot at the creek with Mum. It was my terrible horrible bad no good holiday. My tummy stops hurting when it's time to eat.
Now let's talk about something else. The creek! It was so warm. I was so relaxed in the water and I was collecting rocks.
Now the fire. It was scary. We had to pack our bags and important things. Dad was fighting fires and we went to our cousins house. I was really sad about my tummy hurting. I was really happy about the creek and I was really sad about the fires.
By Faith, 8 (St Joseph's)