Switch on Sunshine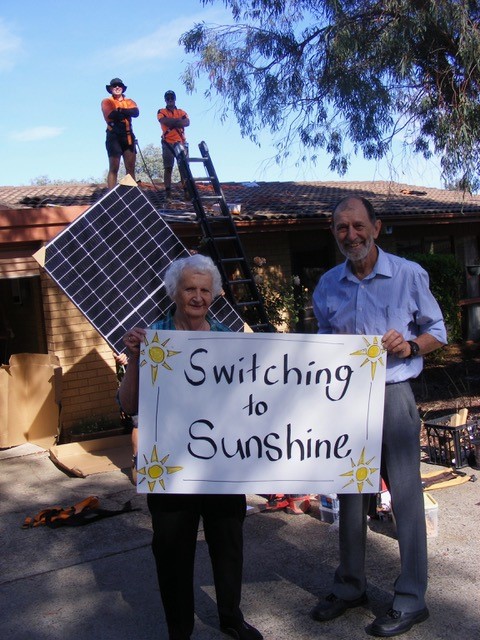 The Pope's teaching Laudato Si ("On Care for Our Common Home") is receiving special attention in the Archdiocese during this Jubilee year for Laudato Si.
A number of Canberra parishes have used an idea from the Social Justice Advocates network in Bega Valley Shire to support people wanting to take up renewable solar energy in their homes. They have successfully piloted the Switch on Sunshine project in initial marketing to Catholic and other like-minded faith communities.
Switch on Sunshine provides guidance to homeowners on how to go about a successful solar installation. The project helps with overcoming homeowner lack of confidence, knowledge or clarity over technical, practical and commercial aspects of solar power.
Christian Brother John Giacon is a key member of the Laudato Si 'circle' in his local South Belconnen parish. His interests cover not just energy but also working on native gardens in the parish grounds and in Landcare projects around his neighbourhood.
John has years of practical experience with solar systems. He has helped older home owners with domestic installations and organised larger systems for institutions, including Christian Brothers Strathfield and the Catholic Orana Parish Centre Aranda.
Through Switch on Sunshine, Helen Baker met up with John and decided to install a solar system. Like Helen, many Canberrans are choosing to become producers of solar power, significantly reducing their electricity bills. But a key factor in Helen's decision to install solar was a personal commitment to cutting her carbon emissions in line with Pope Francis' call to "Care for our Common Home". The system Helen installed will reduce greenhouse gas output from her household by 6 tons a year.
At the archdiocesan level, steps are being planned to respond to the climate crisis and the teachings of Laudato Si. The St Vincent de Paul Society Canberra and Goulburn has appointed a project officer to work towards being certified carbon neutral.
In a recent TED talk, Pope Francis spoke of the moral imperative to act on climate change and three steps we can take. Summarising the serious and urgent nature of our situation, he called for "the gradual replacement, but without delay, of fossil fuels with clean energy sources. We only have a few years …"
For information on Switch on Sunshine, contact the Laudato Si circle at Belconnen South Parish (BelconnenSouth@cg.org.au).