Vinnies appeal takes new turn
Devastating bushfires and a pandemic have taken their toll on one of Vinnies' best-known fund-raising efforts, the annual doorknock appeal.
This year, a new campaign, the Knock On Effect, will replace the doorknock which was one of the biggest fundraisers of the year.
"With the bushfires and COVID-19, it was clear that we needed to change the way we fundraise and this was one of the outcomes," CEO of the Society of St Vincent de Paul Canberra and Goulburn Barnie van Wyk said.
"The benefit of the initiative is that it is across the whole archdiocese whereas the doorknock appeal was only Canberra-based."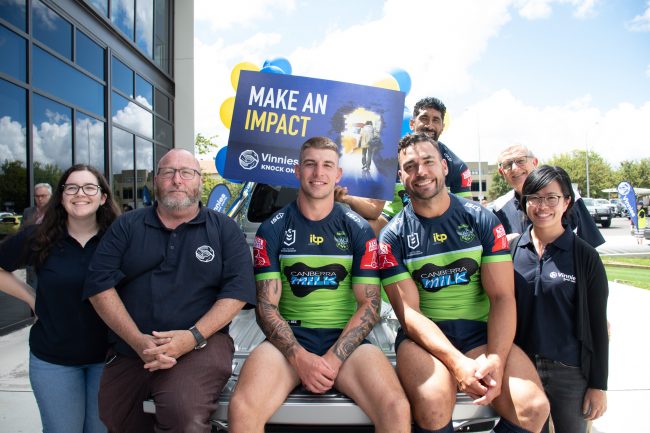 The campaign will run throughout March every year and will invite the community to sign up to fundraise, spread the word about the work of Vinnies in the region, or consider volunteering or donating some goods.
Not that doorknocking has been totally replaced. It will remain one of the fundraising options.
"I personally am going to doorknock because you get to talk to people about what our organisation does and create awareness," Barnie said.
Vinnies hopes the Knock On Effect will grow each year as people become aware that the campaign is not just about raising funds, but about gaining a deeper understanding of the community's needs.
"It is one of the most important campaigns that we will be running because as a community we have to increase our awareness of the things that are happening around us," Barnie said.
The campaign was launched at the Huawei Raiders Centre in Braddon in partnership with Canberra Toyota and the Canberra Raiders.
You can get involved by making a donation or signing up to fundraise at: knockoneffect.org.au