Youth Ministry Leaders Gather Online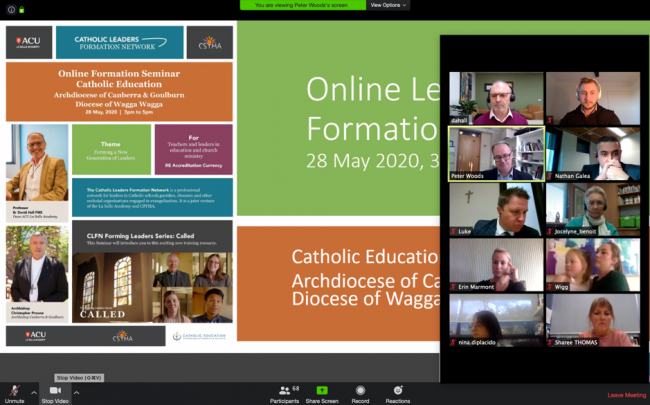 The Catholic Leaders Formation Network recently brought together over 100 leaders from the Archdiocese of Canberra & Goulburn, the Diocese of Wagga Wagga and beyond for an Online Leaders Formation Seminar.
The seminar was a time for key leaders to gather, dialogue, and discern how the Church can continue to invite young people into the Church's life and mission.
Beginning with a keynote by Br David Hall FMS, Dean of the ACU La Salle Academy, the seminar presented a series of sharing inputs, small groups, and multimedia. The information was well-received, with one participant remarking that the presenters spoke with passion.
"Not a passion that comes from being enthusiastic but a passion that comes from the cross into the tomb and then rises to life. Christ HAS Risen."
Another participant praised Br David's input, saying that he is "such a gifted speaker who is so easy and enjoyable to listen to."
"The reminder that relationships are key to assist with knowledge and values in faith formation as a school leader is a message we cannot hear enough about," the seminar participant said.
The seminar also provided a professional learning opportunity with practical ministry strategies, including the CSYMA Four-Phase Model implemented in Catholic schools throughout the Archdiocese.
Participants were encouraged to consider the implications for contemporary evangelisation, including specific themes and ideas that help young people approach the role spiritual development has in their lives.
"It is exciting to see a tangible expression of the Holy Spirit," said Huw Warmenhoven, Canberra and Goulburn's Youth Coordinator.
"The seminar provided insights into the contemporary challenges of youth ministry and provided new approaches to formation and mission in our Catholic schools and Church communities,"